High Waisted Suit Pants With Straw Pleats
High Waisted Suit Pants With Straw Pleats
Our pants are beautifully tailored to fit your body comfortably. Classic cuts and slim fit designs accentuate your best features. They're great basics to wear with many style tops. you'll wear our timeless styles for years.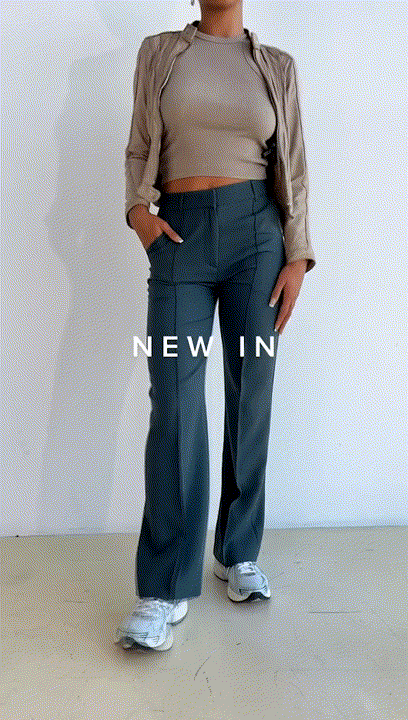 High-waisted suit trousers with straight legs and straw pleats. Two side pockets and belt loops that fit both narrower and wider belts. The trousers close with a zip and hook.
High waist

Fabric in medium stretch

Straight leg

Zipper closure

Belt loops at the waist

The pocket lining is attached to the fly to prevent the pockets from opening

Straw folds along the legs
Two reinforced side pockets
Material: 95% Polyester. 5% Elastan
INNER SEAM:30 inch
【Designed For You】: These premium full-length dress pants with pockets are made for the modern woman. Fitted through waist and hips. with the perfect amount of butt-lifting shape control.
【Classic Comfort】: Pull-on elastic high waistband. makes for easy. relaxed wear to work pants while breathable stretch fabric keeps you comfortable all-day while maintaining a dressy look and feel.
【Perfect for All Occasions】: these pants sit at the waist for natural comfort. These pants go from the office to evening events with style and ease. Women's pants Suitable for work. office. date. school. gathering. vacation. holiday. outdoors. casual out. daily wear. etc.
Currently, we ship within Australia, United States of America, Canada, Japan, New Zealand, Singapore, South Korea, Hong Kong, China, Indonesia, Philippines, Macau, Taiwan, Thailand, Saudi Arabia, United Arab Emirates, Qatar, Mexico, Argentina, Colombia, Peru and countries within the European Union.
Delivery Time: Processing Time (about 3-5 business days) + Shipping Time (about 7 - 12 business days)We are growing rapidly and will add other countries soon. Please subscribe to our newsletter if you would like to receive updates.
Free shipping on orders over $49
$4.99 shipping on orders under $49
*DUE TO COVID SHIPPING TIMES WILL BE DELAYED*
Q: How long will I receive my order?
A: Usually it will take 3-5 days to process after you placed your order. And it will take 8-15 business days to deliver. 

Q: Will I get an email confirmation with my order details?
A: Yes! We will send you an email including your order serial number as soon as your order is placed.

Q: Can I cancel my order?
A: If you request an order cancellation before we ship out the product, we will FULLY refund your payment. However, if you request an order cancellation after we ship out the product, we WILL NOT approve your request unless the product contains defects or damages. We will also need digital proofs (pictures or short videos) to initiate your return & exchange process. 

Q: How do I start a return or exchange process?
Step 1: E-mail us contact@novafit.co with your order number and name with the subject name - [Refund Request]. Please attach appropriate Digital proofs (pictures or short videos) and wait for our approval. We will ONLY accept your request regarding quality related issues.  
Step 2: We will send you an E-mail confirmation once your request is approved. We will also specify the returning address and contacts in this email for you to return your product. Please note that you will need to cover the shipping fee when you send out the item. 
Step 3: Ship your item back to us. Remember to send us an e-mail including your Original Order Number for reference purpose. 
Step 4: After we approve your request, we will send you an Confirmation E-mail and initiate your FULL refund. Normally it will take 5-7 business days to arrive at your bank account. Additionally, we will offer you a 15% off discount code as a sincere apology. 
Q: What payment methods are accepted?
A: We accept all major credit cards from any country including:
Visa, Mastercard, American Express, Dankort, Discover, Cirrus and more.

Q: Are there any additional fees I have to pay?
A: No handling/processing fees are ever charged.
Q: My order won't go through, help!
A: Please contact us contact@novafit.co immediately for the fastest support. Make sure that the billing address you entered matches that of your credit card.
Q: Oops - I put the wrong shipping address!
A: If you need to update your address, select the contact us tab and send us a message and within 24 hours of placing your order and we can change it for you.